We encourage our family members to be active in community service and fellowship events sponsored by Grace Lutheran Church. These include ongoing participation in:
Donations of non-perishable food delivered to the Community Food Pantry in Mohegan Lake;
Pen pal correspondence with KEMPS students in Bukoba, Tanzania; donations of school supplies
Adopt-A-Road cleanups on Route 6 in the spring and fall
Cookies for College baking and packing of cookie tins in May and December (just in time for college finals)
Donations of bag lunches, clothing and toiletries for Midnight Run to serve NYC homeless
Pot luck fellowship events
Special fellowship events during the year include:  Family Movie Nights, Wine and Paint Events, Souper Bowl of Caring soup samplings (February), Boy Scout Sunday pancake breakfast (February), Rally Day games and activities to kick off new school year (September), Harvest Breakfast (October), Christmas party at Grace, featuring catered dinner, visit from Santa Claus, caroling and good fellowship.
After each worship service, join us in the Fellowship hall for coffee, tea, buttered rolls and conversation.
During Lent, join us at 6:30PM on Wednesday evenings for Soup and Sandwich.  You bring the sandwich, we'll provide the soup.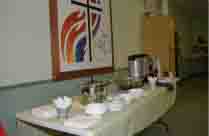 We love hosting our "Seasoned Citizens" luncheons in September, October, November and March, April and May after late service.